Marju, the VunderWoman
On the occasion of International Women's Day, we have the opportunity to sit down with Dr. Marju Vunder and learn about her viewpoints as a woman in modern dentistry and how she unites her career as a successful orthodontist and mother of four.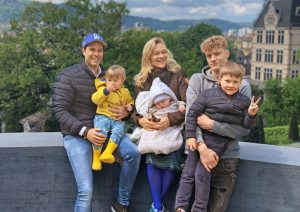 1. Marju, why did you decide to become an orthodontist?
While studying dentistry, orthodontics was the one field that kept fascinating me most. As general dentist you cannot perform orthodontics, hence I chose this specialization to learn everything about it.
2. How long have you been working in this profession?
After the 3 years' long specialization, I graduated from the University of Zürich in 2011. For several years I worked under supervision in several private practices as orthodontist. Since 2017 I am heading my own private orthodontic practice.
3. What did you want to be when you were a child?
When I was growing up I wanted to become a veterinarian or a diplomat. As orthodontist I almost combined those two professions. (laughs)
4. How do you see the position of women in dentistry today?
Women have been playing an ever increasing role in dentistry over the past decade or so, just as is for most fields in the medical sector.
5. How do you think the dental industry has changed in recent years in relation to women?
I see more feminine qualities such as empathy and collaboration taking place in dentistry, as well as in other related fields, all of which is a win for patients of all genders.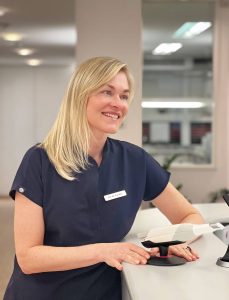 6. Was there a moment in your career when you felt disadvantaged as a woman? If so, how did this affect you?
Yes, the main disadvantage for all women is the question how to manage the dilemma of having children and pursuing a career. When we choose to have children first, it will be difficult to muster up the energy to continue to pursue a career afterwards. When we choose the career first, there might be biological restrictions to getting children in your late 30ies or early 40ies. This is the big question that we women need to decide for ourselves. My male colleagues are less concerned by this question.
7. You have a great team of women at your side – pure female power! Do you see an advantage to working in an all-women team?
I have been working only with my superb female team, the Super Women as I call them and have no experience with mixed teams. But in the future, I think that jobs such as dental assistant, dental hygienist or prophylactic assistant will become more attractive to all genders and less restricted to being considered a women's only profession. I am very much looking forward to it!
On a sidenote, I have 4 sons… hence, I need to have two great teams, one at home and one at work. It is of great importance to being able to build on having good people in your life, both professionally and personally. This allows for organizing your time and recharging your reserves.
8. 61% of the federal diplomas awarded in dentistry in 2020 were awarded to women. Why do you think it is predominantly women who choose to study dentistry?
The age in which only men enjoy higher education and work is definitely over. Women want to continue their education more and more, and since family and housework is now often shared or even completely carried by the man, the quota of women at universities continues to increase. This is also reflected in various professions. In addition, you can work part-time in dentistry – perfect for balancing family and career.
9. When looking at the federal continuing education titles in 2020 the proportion of women that received the title as an orthodontist lies at only 20%. Do you have an idea why less women decide to study orthodontics?
Orthodontics, like most professions involving surgery, are considered a traditional male dominated domain. But with women are getting interested in biomechanics and with a good eye for aesthetics, this profession is becoming more and more attractive.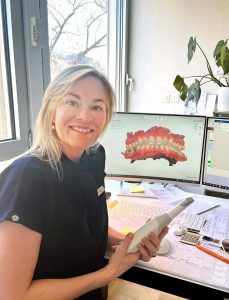 10. In your practice VUNDER ORTHODONTICS you work with various digital workflows including the 3Shape TRIOS Wireless Intraoral Scanner. What advantages did you see when moving to a digital workflow? How does your digital workflow look like?
Everyone is wowed by the digital workflow, mainly the patients. Instead of the old school impressions, within a couple of minutes the intraoral scan gets us precise measurements and all the right colours. Digital increases speed and precision for orthodontists and labs, as well as a massive improvement of the comfort for the patients. And from day one it helped to reduce costs. There is no longer the need of an actual model for planning, just a 3-D model on screen that I can measure on, and share with the patients. Digital workflows help also reducing all those cardboard boxes for cast models and getting rid of all the papers to send to the labs. In this sense, it helps reduce the environmental footprint.
11. What tip would you give someone who has not yet moved to a digital workflow?
Do it. Don't argue!
12. How do you see the future of dentistry?
Dentistry has a bright future offering increased precision and aesthetically pleasing solutions. And with the digital solutions we will see a lot more interactions with the patients.
13. Why did you decide to work with Dental Axess? Is there anything that you particularly appreciate about Dental Axess?
The team of Dental Axess are true professionals, only one phone call away. They listen closely to my concerns and quickly come up with tailored solutions that effectively solve my problems and surpass my expectations. They are always up to date, keeping their hand on the modern technological pulse and are actively involved in developing new solutions.
Thank you Marju for your time and insights.